I think I am finally in love with my "gallery" wall in the living room....Its been so many ways!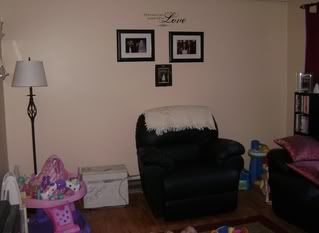 moving in...
getting fuller but not in love with the frames..
It then got bare!
I of course have been spending a lot of time on blogs and Pinterest and saw a lot of Gallery Walls I just loved!
So I did a little re-arranging..aka hubby came home and the pictures in the hallway were gone as well as the hanging ones in our bedroom and I was outside spray painting a Hob Lob letter! Yes this is totally normal now in our home..Hes learned to just roll with it cause chances are it will be changed sooner then later!
I really like it..I smile every time I walk into the room! I am just loving Pinterest and the fact Casey is now 2 and I can actually get some more stuff done around the house!